Missional Centrality:
Our core value:
"We believe in living out the whole of the Great Commission – including evangelism, spiritual formation, compassion, and redemptive justice – in our communities and around the world."
Missions We Serve
---

BSF meets at Roslyn Presbyterian Church on Tuesdays.
It an in-depth, interdenominational Bible study that helps people know God and equips them to effectively serve the Church throughout the world.
In more than 1,000 classes in 39 countries, people of all ages, races and cultures participate in BSF, whether they are discovering God's Word for the first time or have studied the Bible over a lifetime. (MORE)
---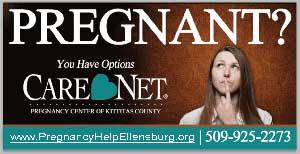 Care Net Pregnancy Center of Kittitas County
(MORE)
---

SAMARITAN'S PURSE ~

A nondenominational evangelical Christian organization providing spiritual and physical aid to hurting people around the world.  (MORE)
---
HOPE ACADEMY~
Opened its doors in 1986 to the children in the poverty-stricken Cossipore area of Kolkata, India.
---